High Recovery Rate RO Water Manufacturer with UV Sterilizer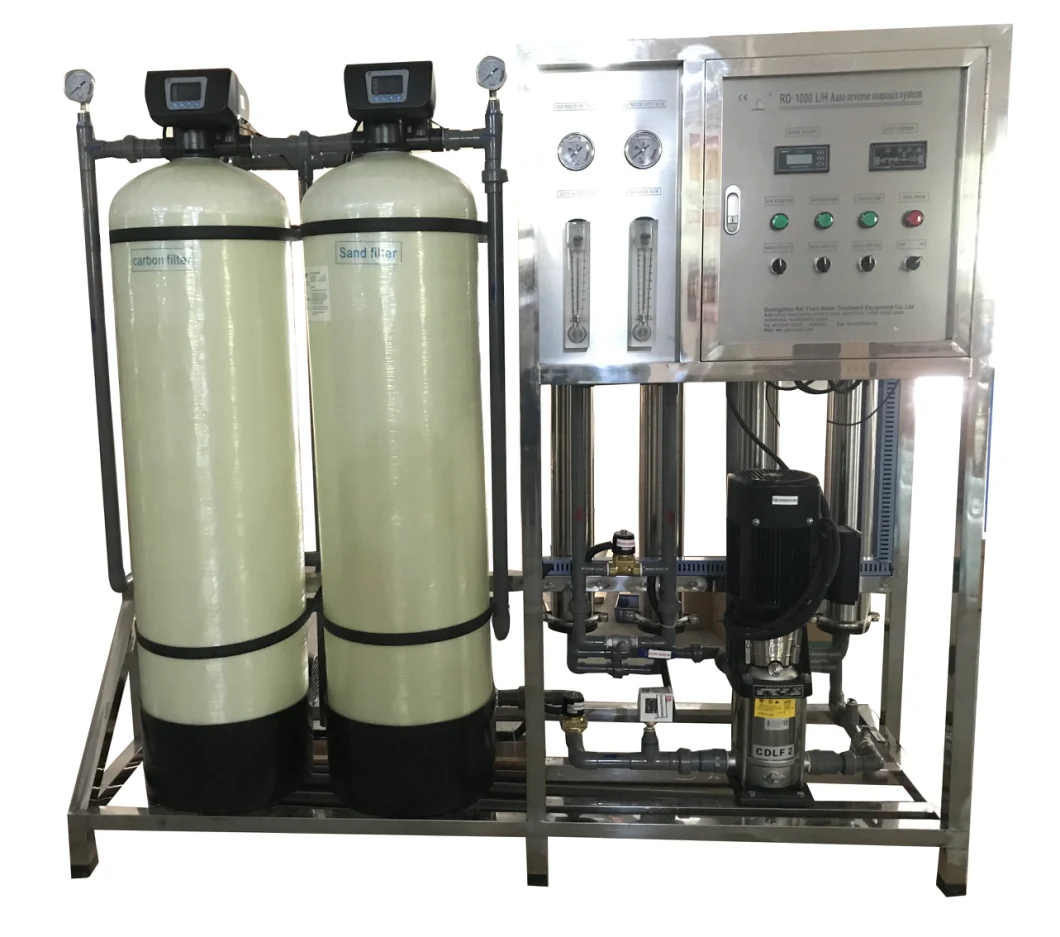 ease of maintain
Auto and manual wash
Auto power on and power off
Short circuit protection
Recovery rate 50%-75%
salt rejection
97%
Specification:
1. Manual or automatic control
2. Desalination rate more than 97%
3. PLC control
4. CE certificate
1>. What is reverse osmosis/RO system?
RO water treatment is adopt the reverse osmosis technique. Reverse osmosis/RO is one of the advance technology for water purification in modern, raw water such as tap water, well water, borehole water, brackish water, sea water ect. Through the pretreatment then pass the reverse osmosis system, the pure water completely in line with international standards for drinking water. It widely applied to electronics, semiconductor, pharmaceutical, medical, food, beverages, alcohol, chemical industry, environmental protection and other industries.
RO system is widely used in water treatment, purification for tap water, well water, underground water, borehole salty water, brackish water and seawater, pure water and ultra-pure water production. Application area such as, food processing, bottled drinking water, home use drinking water, power stations, electronic industries, cosmetics production, pharmaceuticals manufactories, and medical treatment(such as hemodialysis). It is a key equipment for pure water plant and ultrapure water equipment.
Different water TDS compare and

usage

Usage/Source Water

Bottled water, bag Water

City Water

Brackish water

Sea Water

TDS Range

2-10ppm

100-1000ppm

2000-20,000ppm

20,000-40,000ppm

Direct Drinking

Yes

Yes/No

No

No

Cooking, human consumption, washing

Yes

Yes

No

No

Irrigation, industry, animal drinking

Yes

Yes

No

No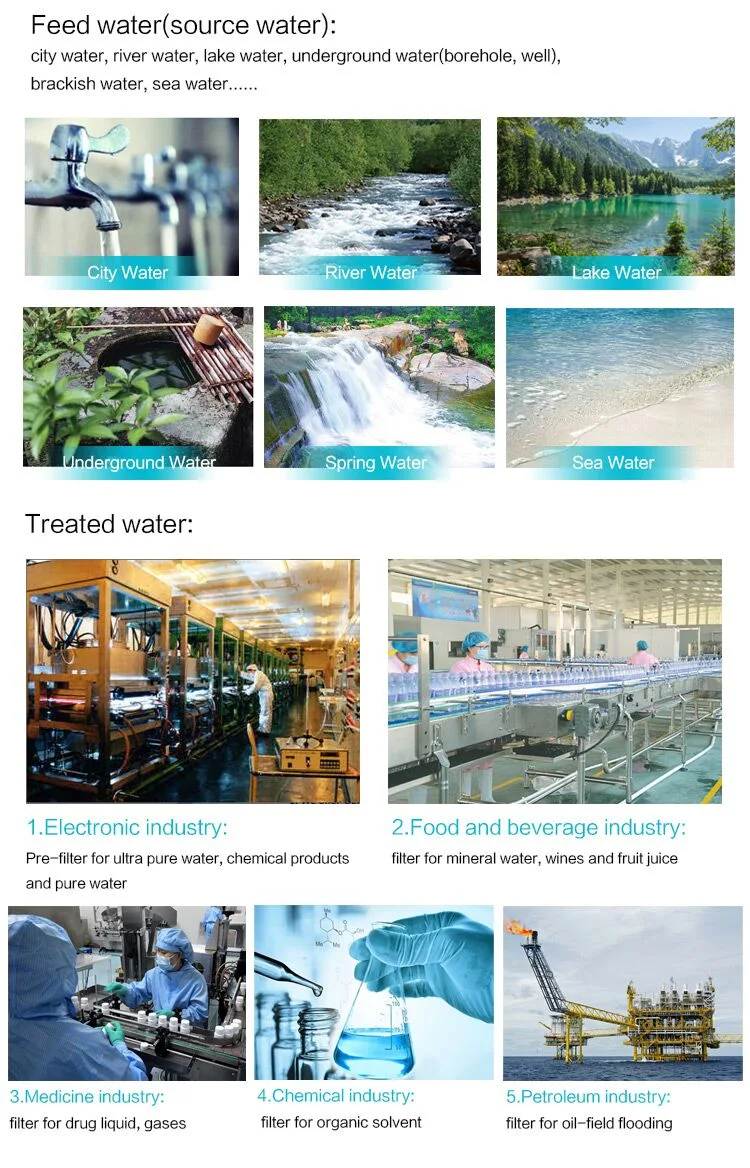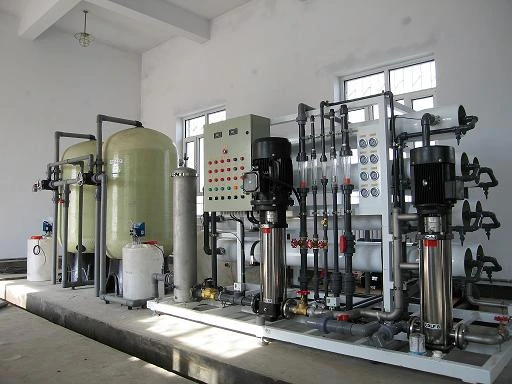 2>. The process of RO water purifier system:
Raw water-- Raw water tank --Raw water pump --Quartz sand filter-- Active carbon filter-- Security filter-- high pressure pump-- RO system--Pure water tank-- UV/Ozone --Pure Water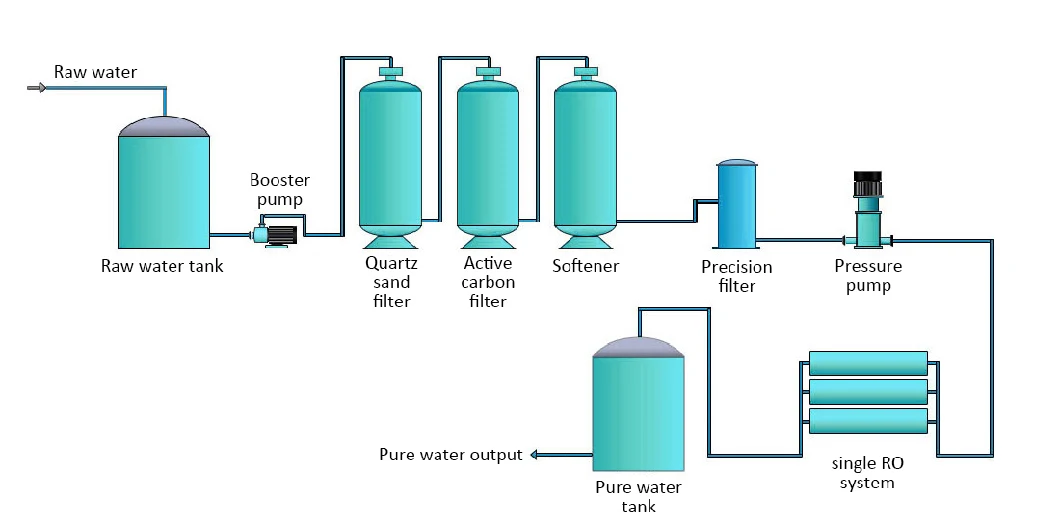 1. Raw water pump-- provide the pressure to quartz sand filter/active carbon filter.
2. Quartz sand filter--get rid of turbidity, suspended matter, organic matter, colloid, etc.
3. Active Carbon filter--Remove the color, free chloride, organic matter, harmful matter, etc.
4. Softener--exchange "ions" of calcium and magnesium with the most common and easiest method.
5. Security filter--prevent large particles, bacteria, viruses into RO membrane, accuracy is 5um,
6. High pressure pump--Provide the high pressure to RO membrane ro.
7.RO system-- main part of the plant. The RO membrane's desalting rate can reach 97%, removing over 97% ions.
| | | | |
| --- | --- | --- | --- |
| S/N. | Commodity name | Application | Remark |
| 1 | Raw water tank | Store water, buffering pressure, overcome instability of supplying water by pipe, ensure to supply water stably and continuously for whole system | Customer provide for themselves, because big size will result in expensive freight. |
| 2 | Raw water pump or called booster pump | Provide needed pressure for every pretreatment filter | We can provide CNP pumps or Grundfoss pumps |
| 3 | Mechanical filter or called quartz sand filter or sand filter | We use fiber glass or stainless steel vessel as housing, fill quarts sand, it can filter big particles impurities, suspended substances, colloids etc. | |
| 4 | Activated carbon filter | We use fiber glass or stainless steel vessel as housing, fill activated carbon, remove color, odor, residual chlorine and organics substances. | |
| 5 | Water softener, demineralizer, or called Na+ exchanger | Adopt cation resin to soften water, cation resin will absorb Ca2+, Mg2+(main elements for composing scale), reduce hardness of raw water, System can make resin intelligently regenerate, recycling | |
| 6 | Security filter or pp filter, or called PP sediment filter | prevent large particles, bacteria, viruses into RO membrane, accuracy is 5µm | |
| 7 | High pressure pump | Provide needed working pressure for RO system, ensure production capacity of pure water. | CNP pump, Grundfos optional |
| 8 | RO(reverse osmosis) system | Can remove particles, colloids, organic impurities, heavy metal ions, bacteria, virus, heat source etc. harmful substances and 99% dissolved salts. | RO membranes USA Filmtec Dow |
3>. The feature of RO equipment:
1). Can production water continuously and highly automatic
2). No need the chemical regeneration, easy operation
3). RO system choose the import USA DOW membrane
4). Automatic switch on when low water level, and switch off when high water level
5). RO membrane can backwash automatic and reduce thepollution.
6). Water shortage protection for multi-stage pump
7). Porduction water condutivity meter can test the monitoring quality on line contionuosly.
8). Low operation Cost and Long life span
9). It is PC program controller
10). Easily control and Maintained.
11). Auto membrane flushing
12). Environmental protection, Low power consumption
13) Auto flush/backwash
14) Low /high pressure protection
4>the capacity we can supply:
| | | | | |
| --- | --- | --- | --- | --- |
| Model No. | Capacity (M3/H) | Power (kw) | Recovery Rate (%) | Total land area LX W X H (mm) |
| RO-250 | 0.25 | 1.5 | 50 | 2500X1000X2800 |
| RO-500 | 0.5 | 1.5 | 50 | 2500X1000X2800 |
| RO-1000 | 1 | 2 | 50 | 3500X1200X2800 |
| RO-2000 | 2 | 4 | 50-60 | 6500X1500x2800 |
| RO-3000 | 3 | 4.5 | 55-65 | 7500X1500X2800 |
| RO-4000 | 4 | 6.5 | 55-65 | 7500X1500X2800 |
| RO-5000 | 5 | 11 | 60-70 | 10000X2500X3500 |
| RO-6000 | 6 | 11 | 60-70 | 10000X2500X3500 |
| RO-8000 | 8 | 18 | 60-70 | 10000X3500X3500 |
| RO-10000 | 10 | 20 | 60-70 | 10000X4000X3800 |
| RO-20000 | 20 | 30 | 70-75 | 15000X5000X5000 |
| RO-30000 | 30 | 40 | 70-75 | 20000X6000X5000 |
| RO-50000 | 50 | 50 | 70-75 | 30000X8000X5000 |