Manufacturer compact water purification treatment machine china reverse osmosis drinking water system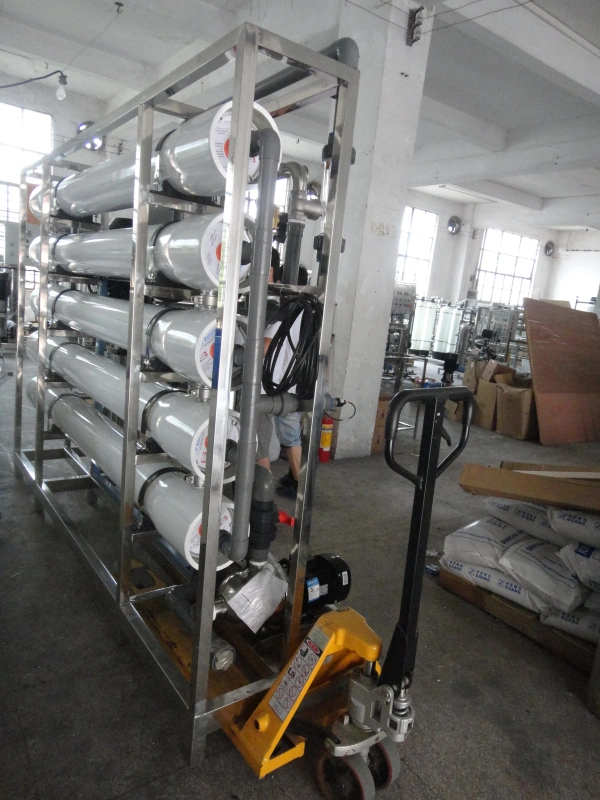 Model: RO-10000
Capacity of pure water: 10000 L/H 25degree
General power: 19KW
Electrical power: AC 380V 50Hz
RO membranes: BW30-400 Filmtec Dow 10PCS
Membrane housing: FRP
Multi-phases pump: (Nanfang or Grundfos optional)
Beforehand filter: Fiber glass and stainless steel optional
PP sediment membranes filter: 40" 5um
Booster pump: Nanfang, Hangzhou
Active carbon filter: 500kg
Quartz sand filter: 1800kg
Description of this ro water system
Reverse Osmosis or (RO) can be described as a procedure whereby pure water and contaminants is divided via a semi-permeable membrane(s) with very fine pores. This method is a necessary technique employed in the majority of water purification systems. Reverse Osmosis is considered to be a highly effective approach to eliminating water impurities, such as Toxic Heavy Metals i.e. Lead and Radium, Mercury, Chlorinated Pesticides, organic matters, Turbidity & Dissolved Solids, bacteria, virus.
RO system is widely used in water treatment, purification for tap water, well water, underground water, borehole salty water, brackish water and seawater, pure water and ultra-pure water production. Application area such as, food processing, bottled drinking water, home use drinking water, power stations, electronic industries, cosmetics production, pharmaceuticals manufactories, and medical treatment(such as hemodialysis). It is a key equipment for pure water plant and ultrapure water equipment.
Different water TDS compare and

usage

Usage/Source Water

Bottled water, bag Water

City Water

Brackish water

Sea Water

TDS Range

2-10ppm

100-1000ppm

2000-20,000ppm

20,000-40,000ppm

Direct Drinking

Yes

Yes/No

No

No

Cooking, human consumption, washing

Yes

Yes

No

No

Irrigation, industry, animal drinking

Yes

Yes

No

No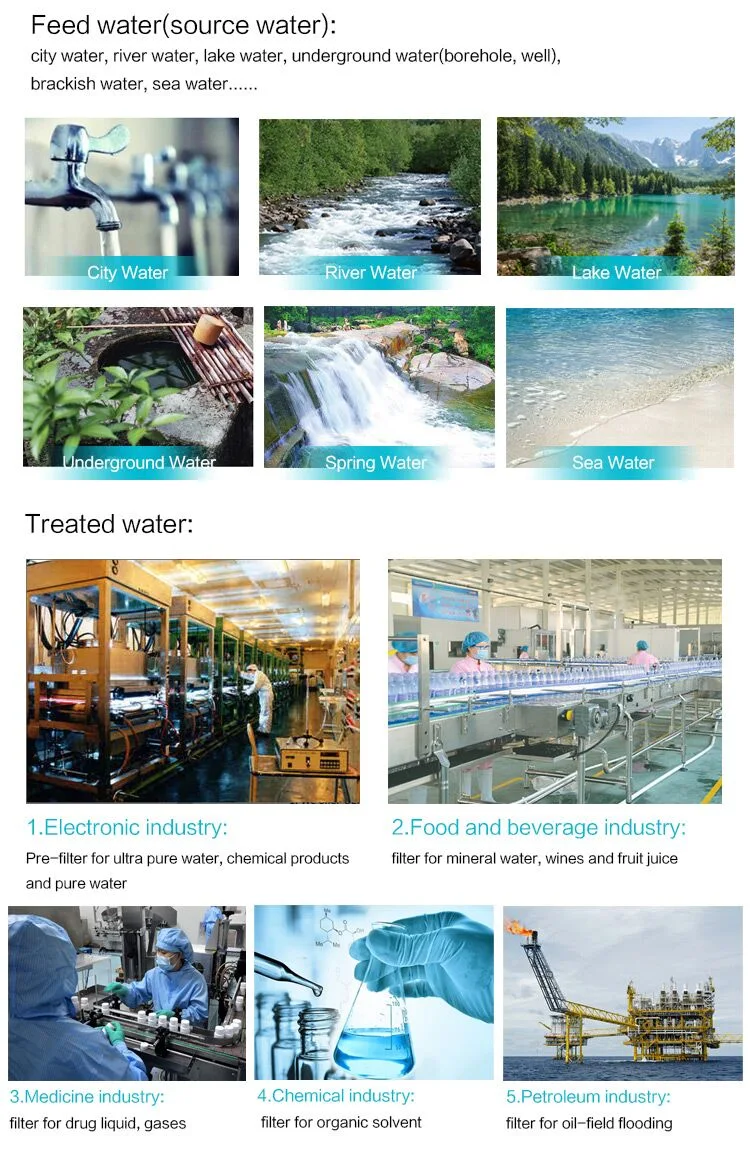 Working process
Raw water----booster pump---quartz sand filter---activated carbon filter---water softener (optional)---security filter----high pressure pump---RO system----UV light---pure water tank(or bottled water filling production line)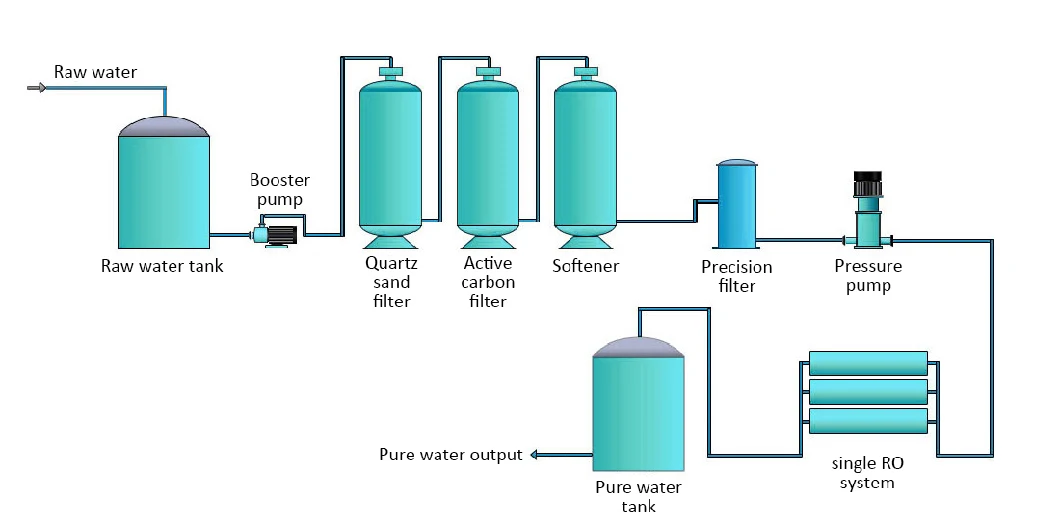 1. Raw water pump-- provide the pressure to quartz sand filter/active carbon filter.
2. Quartz sand filter--get rid of turbidity, suspended matter, organic matter, colloid, etc.
3. Active Carbon filter--Remove the color, free chloride, organic matter, harmful matter, etc.
4. Softener--exchange "ions" of calcium and magnesium with the most common and easiest method.
5. Security filter--prevent large particles, bacteria, viruses into RO membrane, accuracy is 5um,
6. High pressure pump--Provide the high pressure to RO membrane ro.
7.RO system-- main part of the plant. The RO membrane's desalting rate can reach 97%, removing over 97% ions.
| | | | |
| --- | --- | --- | --- |
| S/N. | Commodity name | Application | Remark |
| 1 | Raw water tank | Store water, buffering pressure, overcome instability of supplying water by pipe, ensure to supply water stably and continuously for whole system | Customer provide for themselves, because big size will result in expensive freight. |
| 2 | Raw water pump or called booster pump | Provide needed pressure for every pretreatment filter | We can provide CNP pumps or Grundfoss pumps |
| 3 | Mechanical filter or called quartz sand filter or sand filter | We use fiber glass or stainless steel vessel as housing, fill quarts sand, it can filter big particles impurities, suspended substances, colloids etc. | |
| 4 | Activated carbon filter | We use fiber glass or stainless steel vessel as housing, fill activated carbon, remove color, odor, residual chlorine and organics substances. | |
| 5 | Water softener, demineralizer, or called Na+ exchanger | Adopt cation resin to soften water, cation resin will absorb Ca2+, Mg2+(main elements for composing scale), reduce hardness of raw water, System can make resin intelligently regenerate, recycling | |
| 6 | Security filter or pp filter, or called PP sediment filter | prevent large particles, bacteria, viruses into RO membrane, accuracy is 5µm | |
| 7 | High pressure pump | Provide needed working pressure for RO system, ensure production capacity of pure water. | CNP pump, Grundfos optional |
| 8 | RO(reverse osmosis) system | Can remove particles, colloids, organic impurities, heavy metal ions, bacteria, virus, heat source etc. harmful substances and 99% dissolved salts. | RO membranes USA Filmtec Dow |
Advantages:
1)System can produce water continuously and high degree automation.
2)No need chemical to regenerate, easy operation and maintenance.
3)Core components of RO system are imported USA DOW membranes.
4)Automatic switch on when low water level, and switch off when high water level
5)System flushes RO membranes automatically, reducing membranes polluted speed.
6)Water shortage protection for multi-stage pump
7)Product water conductivity meter can monitor water quality online continuously.
8)Low operation cost and long life span
9)There's RO controller, make whole RO system operating automatically.
10)Easily control and Maintained.
11)Auto membrane flushing
12)Environmental protection, Low power consumption
13) Auto flush/backwash
14) Low /high pressure protection
Because different water is of different quality. We will require for a raw water analysis or test report for inquiries of water treatment system. The reverse osmosis system is an ODM project for us as you know.
Application industry
1). Electronic industry: Pre-filter for ultra pure water, chemical products and pure water
2). Food and beverage industry: Filter for mineral water, wines and fruit juice
3). Medicine industry: Filter for drug liquid, gases
4). Chemical industry: Filter for organic solvent
5). Petroleum industry: Filter for oil-field flooding
After -sale service instructions
1)Warrantee: 1 year, all the components have problem within this year, will
Resend quickly for free.
2)User Manual: Provide the specific entire system"User Manual"
3)Spare parts: After 1year guarantee, offer spare parts with preferential
Price.
4)Technical guideline: Provide life long" Net Technical Support "freely.
5)Transportation: Offer professional shipping service/air service if necessary.
6)Documentary: Collecting cargo and handle paper work for exporting.
7)Order supervisor: Manage your order very well after planning stable orders to keep your stable market running.
Guangzhou Kaiyuan Water Treatment Equipment Co., Ltd, are specialized in manufacturing reverse osmosis(RO) water treatment equipments. The RO system can purify tap water, underground water, river water and seawater to drinking pure water. Welcome your visiting to our factory warmly!
10,000L/H consumable list
Description of goods
change time
Quantity
Total
Quartz sand
should be replaced every
about 15 month
50kg/bag
*40 Bags
Activated carbon
should be replaced every
about 15 month
25kg/bag
*24Bags
Filter cartridge
(40 "× 5μm ,10 core)
should be replaced every
about 1 month
1 pcs

*84pcs
RO membrane
should be replaced every
about 1-2 years
1 pcs
*10pcs
These consumables accessories are for 1-2 years more !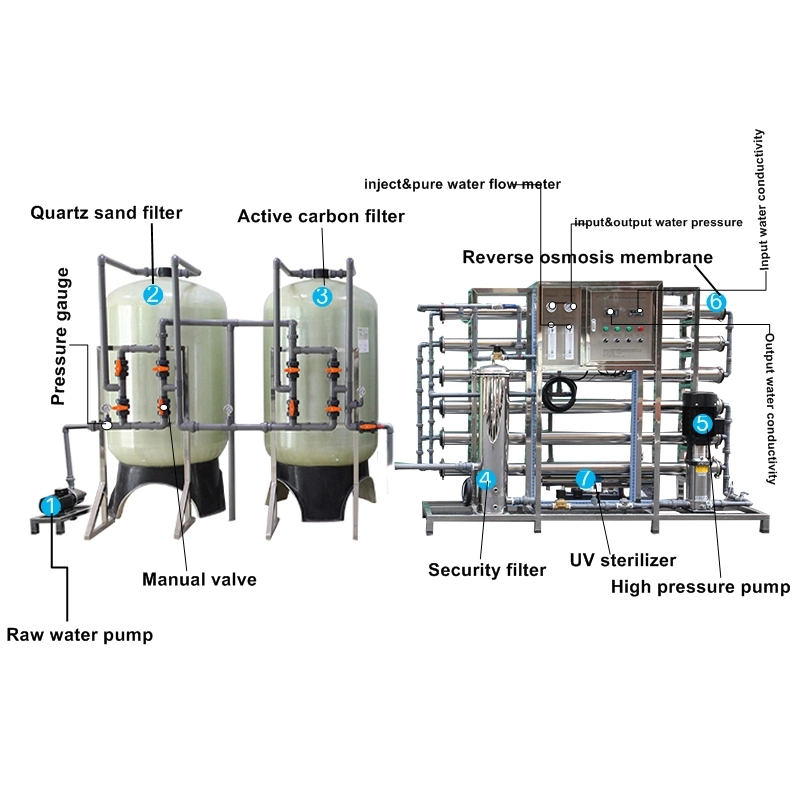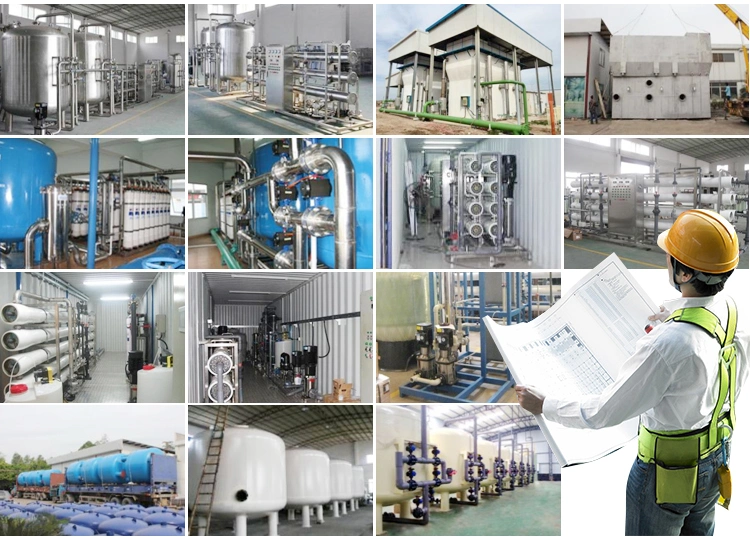 FAQ
1.What is the Guarantee and after sale-service Kai yuan company can supply ?
it is one year guarantee ( except for Artificially damaged) Any problems with the accessories,like valves , pumps etc. within 1 year , we could delivery to you for free .
2.Does the machine/equipment difficult to install ?
Kai yuan factory already connect/adjust well for the machine before delivery ,and we will Provide the specific entire system"User Manual",if need can take Video for how to operate machine. .
3.Does Kai yuan will help customer install the machine in their country ?
In additional , Kai yuan can also send their engineers to customer place to install this equipment and train staff, but the buyer should pay for the relevant cost for our workers.
4.What is the packing of this machine ? Is it suitable for shipment?
Machine will be packed by standard wooden case. It is suitable for shipment. After you receive machine, you open wooden case to pick out of machine is ok .
5.what is the payment for the orders customer make ?
After we confirmed order, will send you contract sales/PI with our company bank information. You can transfer money to our company bank account by T/T.,Western Union or do L/C if it is accepted by both of us .
6. What is requirement information i need to provide for achieve the suitable ro machine/other relevant products i want ?
It is kindly that you could provide us a raw water analysis /water test report .
7.Why we need to choose Kai yuan from so many suppliers in China?
Guangzhou Kaiyuan Water Treatment Equipment Co.,ltd products are sold well not only in domestic, but also in UAE, Saudi Arabia, South Africa, Kazakhstan, Sri Lanka, Vietnam, Haiti, Spain, Australia, Nigeria, Uganda, New Caledonia, Ecuador, Sudan, Guatemala, Somalia, Cameroon, Malaysia ,Ghana, Lebanon etc. Countries.
we have bellowing :
we have a big bright factory in GZ city , bai yun distric, which is near to GZ Bai yun air port .
QC Team :we have professional QC team ,can guarantee stable quality for OEM production service.
Installation : Easy operation with Video ,or we could arrange experienced
engineer to local place for installation .
4.Packing :Standard wooden packing will reinforce protect machine.
5.Competitive price :we are confident with our competitive price in the
international global market.