Local Anesthetic Pharmaceutical Raw Material Articaine Hydrochloride CAS 23964-57-0
Articaine HCI Basic Info
Product name

Articaine HCI

CAS No.

23964-57-0

Molecular

F

ormula

C13H20N2O3S.ClH

Molecular weight

320.839

EINECS NO.

245-957-7
Appearance

White or almost white crystalline powder.

Purity

99%min

Melting point

177-178°

Solubility

H2O:soluble

Stability

Stable. Combustible. Incompatible with strong oxidizing agents.

Storage

condition

2-8ºC

Shelf life

2 years
Articaine HCI Descrption
Articaine HCl is a dental local anesthetic that contains an additional ester group that can be metabolized by esterases in the blood and tissues. Submucosal injection of 80 mg of 4% Articaine occurred after 10 to 15 minutes of maximum drug concentration. Articaine's elimination half-life is approximately 20 minutes. Compared with other local anesthetics, Articaine can spread better in soft and bone tissues. The concentration of Articaine in the groove after maxillary tooth extraction is 100 times higher than in systemic circulation.
Articaine HCI Application
Articaine hydrochloride is used for relief of pain in minor operations, usually in combination with the vasoconstrictor epinephrine. from NCIt. A thiophene-containing local anesthetic pharmacologically similar to MEPIVACAINE. from MeSH.
Articaine Hydrochloride is the hydrochloride salt form of articaine, an amide-type local anesthetic. Articaine hydrochloride reversibly blocks nerve impulse conduction by binding to specific membrane sodium ion channels thereby interfering with the electrical excitation in the nerve, slowing the propagation of the nerve impulse and reducing the rate of rise of the action potential. This results in a loss of sensation at the injection site. Articaine hydrochloride is used for relief of pain in minor operations.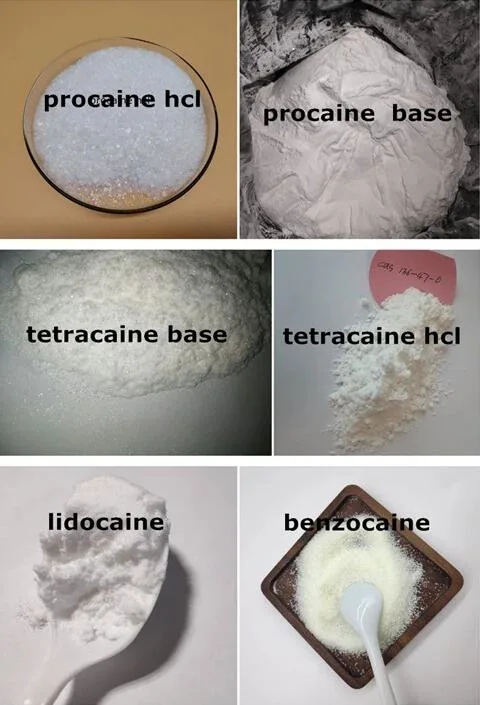 F.A.Q

Q1: Are you a manufacturer?
Yes, We have concentrated on Organic synthesis over 12 years since 2008.
Advanced R&D technology, 250,000 categories chemical reagent are in stock.
Trading products we will serve for you with our ISO supplier system, making your purchasing risk into the lowest.
In addition, we provide the customization service of a new compound from lab to bulk manufacturing.
Q2: How to contact with us?
You can contact with us on Made-in-China or Whatsapp+8615819496936, the Average Response Time is 0-4h on Work time, <24h on Non-work time.
For every inquiry, our sales will provide the one-for-one service for you.
Q3:Which kind of payment do you accept?
Western union, bitcoin, bank transfer and alipay.
Q4:How to confirm the Product Quality before placing orders?
1st, you can get free samples for some products, just pay the basic cost for us.
2nd,Also you can send the specification or your quest to us, we will customize the products for you.
3rd,We emphasis that our whole company make a living with organic chemical and customers, we absolutely impossible to sale any fake goods, unqualified goods, it is shame! And None False certificate/lie/illegal thing in our sales net!
Q5:How do you treat quality complaint?
The customer complaint handling procedures
is the key part in Our ISO management system. We will set up an investigation team for your complaint, and give the handling plan and our corrective and preventive measures within a limited time.
Q6:Package
We will refer the MSDS to design the package standard and show you at the PI or Quotation list.
If you want customize package and haven't go against the principle of science, we will do as your request. The cost will be calculate your request.
Q7:Shipping
We have R&D and manufactured chemicals for 12 years, we have rich experience on Shipping, Many famous companies cooperated with us stably, we are good at shipping all kinds of chemicals.