Factory price small ro water treatment plant line machine for sale
Guangzhou Kaiyuan Water Treatment Equipment Co., Ltd is located in Baiyun district, Guangzhou city. We are specialized in manufacturing reverse osmosis(RO) water treatment equipments. The RO system can purify tap water, underground water, river water and seawater to drinking pure water. The RO water purification machine is applied in pharmaceutical area, bottled water production line, chemicals industry, cosmetic production etc.
Description of this ro water system
Reverse Osmosis or (RO) can be described as a procedure whereby pure water and contaminants is divided via a semi-permeable membrane(s) with very fine pores. This method is a necessary technique employed in the majority of water purification systems. Reverse Osmosis is considered to be a highly effective approach to eliminating water impurities, such as Toxic Heavy Metals i.e. Lead and Radium, Mercury, Chlorinated Pesticides, organic matters, Turbidity & Dissolved Solids, bacteria, virus.
RO system is widely used in water treatment, purification for tap water, well water, underground water, borehole salty water, brackish water and seawater, pure water and ultra-pure water production. Application area such as, food processing, bottled drinking water, home use drinking water, power stations, electronic industries, cosmetics production, pharmaceuticals manufactories, and medical treatment(such as hemodialysis). It is a key equipment for pure water plant and ultrapure water equipment.
Different water TDS compare and

usage

Usage/Source Water

Bottled water, bag Water

City Water

Brackish water

Sea Water

TDS Range

2-10ppm

100-1000ppm

2000-20,000ppm

20,000-40,000ppm

Direct Drinking

Yes

Yes/No

No

No

Cooking, human consumption, washing

Yes

Yes

No

No

Irrigation, industry, animal drinking

Yes

Yes

No

No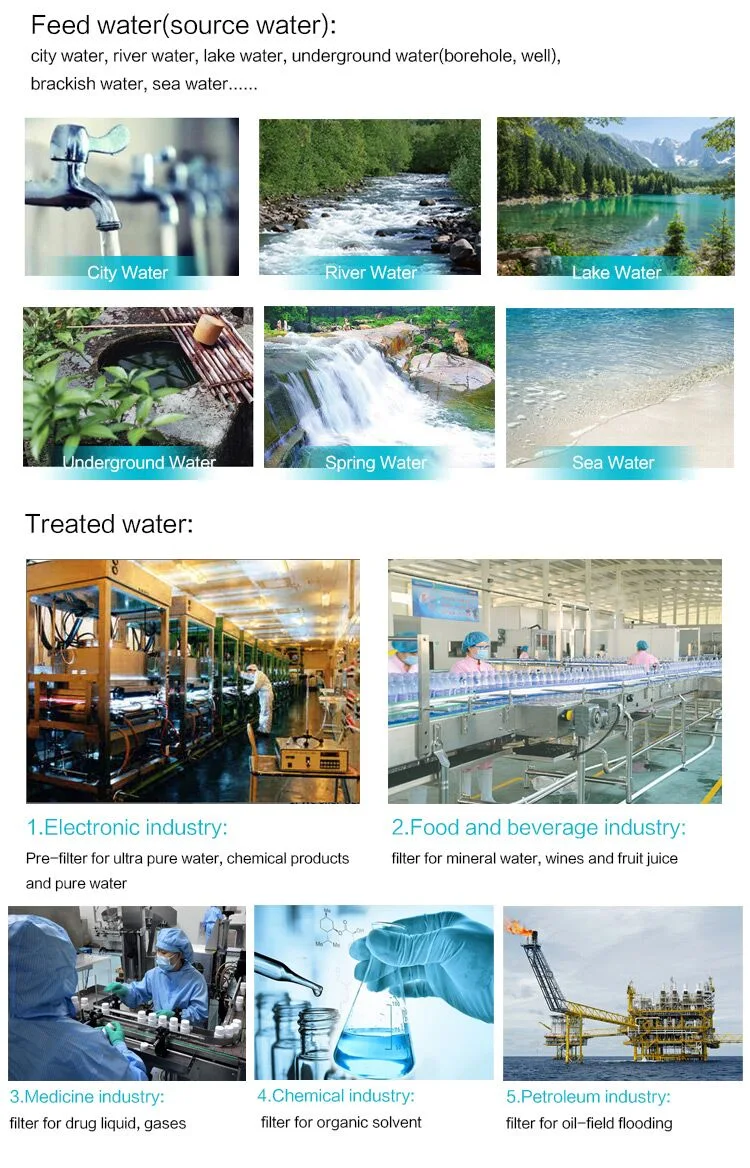 1. Main parameters ofOzonator Water Purifier:
1)Model: RO-250L/H
2)Capacity of pure water: 250 L/H 25degree
3)General power: 1.7KW
4)Electrical power: AC 380V 50Hz
5)RO membranes: LCLE-4040 Filmtec 1PCS
6)Multi-phases pump: (Nanfang or Grundfos optional)
7)Beforehand filter: Fiber glass and stainless steel optional
8)PP sediment membranes filter: 20" 5um housing: Stainless steel
9)Booster pump: Nanfang, Hangzhou
10)Active carbon filter: 15kg
11)Quartz sand filter: 50kg
2. Working process
Raw water----booster pump---quartz sand filter---activated carbon filter---water softener (optional)---security filter----high pressure pump---RO system----ozone generator---pure water tank(or bottled water filling production line)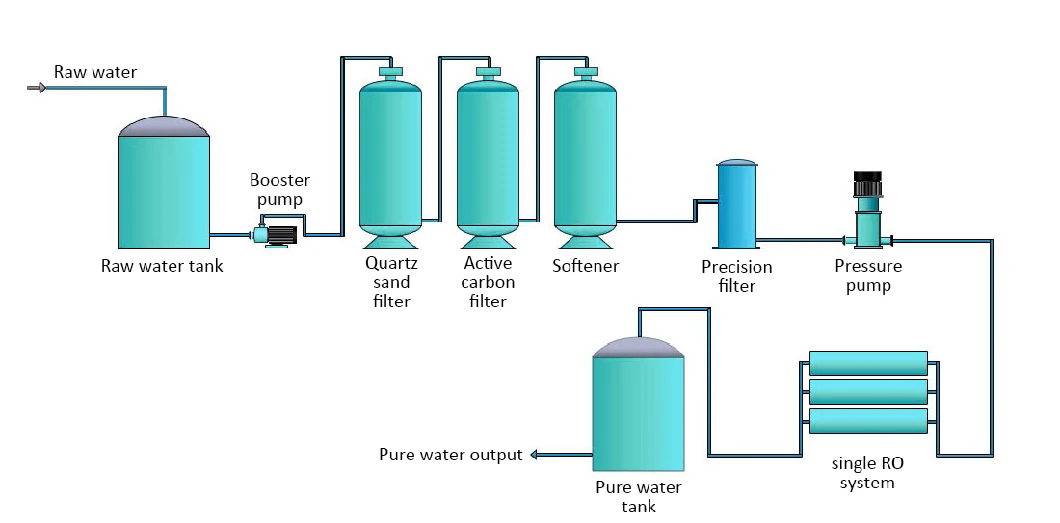 Model

KYRO-250

Remark

Production capacity

250L/H

Power supply

380V 50/60Hz 3Phase or customize

230v 50/60hz single phase

Power

1.5kw

Raw water pump

Nanfang Hangzhou

China famous brand

Quartz sand filter

Φ

200×1100 fiber glass 1pc

Quartz sand:50kg

Activated carbon filter

Φ

200×1100 fiber glass 1pc

Activated carbon:25kg

Auto water softener

φ

Φ

200×1100 fiber glass 1pc

Resin

Security filter

20 "× 5μm pp filter cartridges, 1pcs

Housing material:SUS-304

High pressure pump

Nanfang Hangzhou

Reverse osmosis (RO)membrane

USA DOW

Membrane housing

4040 material: SUS-304

Sterilizer device

Ultraviolet lamp or ozone machine
| | | | |
| --- | --- | --- | --- |
| S/N. | Commodity name | Application | Remark |
| 1 | Raw water tank | Store water, buffering pressure, overcome instability of supplying water by pipe, ensure to supply water stably and continuously for whole system | Customer provide for themselves, because big size will result in expensive freight. |
| 2 | Raw water pump or called booster pump | Provide needed pressure for every pretreatment filter | We can provide CNP pumps or Grundfoss pumps |
| 3 | Mechanical filter or called quartz sand filter or sand filter | We use fiber glass or stainless steel vessel as housing, fill quarts sand, it can filter big particles impurities, suspended substances, colloids etc. | |
| 4 | Activated carbon filter | We use fiber glass or stainless steel vessel as housing, fill activated carbon, remove color, odor, residual chlorine and organics substances. | |
| 5 | Water softener, demineralizer, or called Na+ exchanger | Adopt cation resin to soften water, cation resin will absorb Ca2+, Mg2+(main elements for composing scale), reduce hardness of raw water, System can make resin intelligently regenerate, recycling | |
| 6 | Security filter or pp filter, or called PP sediment filter | prevent large particles, bacteria, viruses into RO membrane, accuracy is 5µm | |
| 7 | High pressure pump | Provide needed working pressure for RO system, ensure production capacity of pure water. | CNP pump, Grundfos optional |
| 8 | RO(reverse osmosis) system | Can remove particles, colloids, organic impurities, heavy metal ions, bacteria, virus, heat source etc. harmful substances and 99% dissolved salts. | RO membranes USA Filmtec Dow |
1.

Water tank

:
storage of tap water, to solve the problem of insufficient tap water pressure and the back booster pump due to the impact of insufficient water, reduce the failure rate
2.

Booster pump

:
equipped with a stainless steel pump, to provide sufficient pressure for subsequent filtration
3.

Quartz sand filter

:
mainly remove the mud, suspended solids and large particles in the tap water
4.

Carbon filter

:
mainly remove organic substances, residual chlorine and odor in tap water
5.

Water softener filter

:
mainly remove the calcium and magnesium in tap water, reduce the hardness of water
6.

Security filter

:
further filtration, protection of reverse osmosis membrane
7.

High pressure pump

:
provide enough pressure for reverse osmosis system
8.

Reverse osmosis unit

:
the core part of pure water equipment, the production of high-purity water.
9.

Pure water tank

:
storage pure water, can change the size of the water tank, after the below process, The water result is pure enough for different application.
Equipment control system

There are two modes of operation in the whole system: manual and automatic mode

When the original water tank is short of water, the whole system can not work

When the pure water tank is full of water, the whole system stops working

Automatic flushing can be set up for reverse osmosis

Tap water can automatically recharge water

Equipment characteristics

Two regeneration

no hazardous waste discharge, beneficial to environmental protection

continuous operation, simple operation

easy to install, maintain

Equipment application field

Mineral water, liquor brewing water, drinking pure water

Hotels, buildings, residential , airports, factories drinking water

Producing drinking water by sea water and bitter salt water

Ultra pure water used in circuit, electronics, optics, chemical industry, petroleum, surface treatment and other industries
3. Advantages:
1). RO water purification system can produce pure water continuously and highly automatic
2). No need chemical to regenerate, easy operation
3). RO system membranes are imported USA DOW membranes.
4). Automatic switch on when low water level, and switch off when high water level
5). RO membrane can wash automatically and reduce pollution
6). Water shortage protection for multi-stage pump
7). Production water conductivity meter can test the monitoring quality on line contionuosly.
8). Low operation Cost and Long life span
9). It is PLC program controller
10). Easily control and Maintain
11). Auto membrane flushing
12). Environmental protection, Low power consumption
13) Auto flush/backwash
14) Low /high pressure protection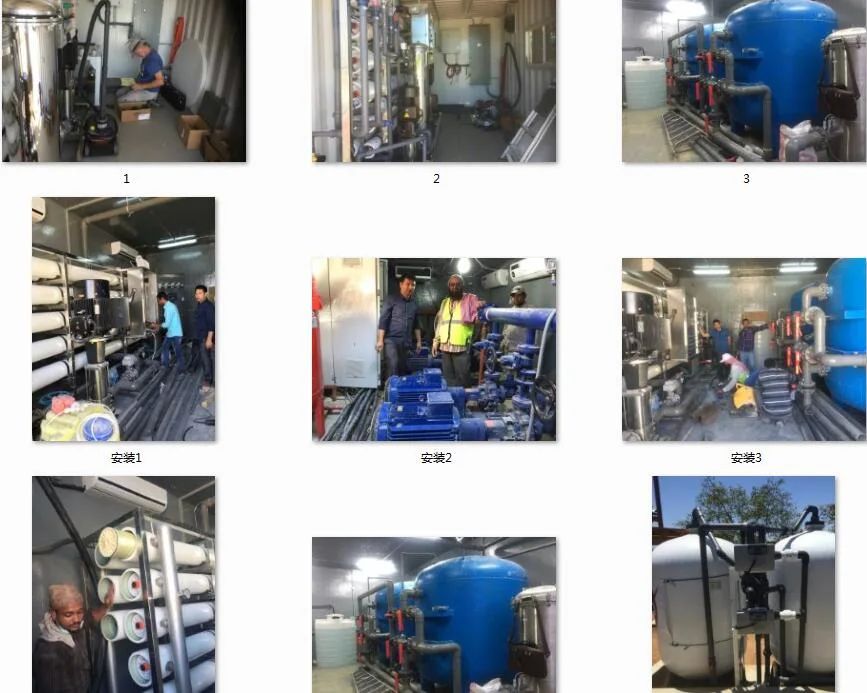 4. Application industry
1). Electronic industry: Pre-filter for ultra pure water, chemical products and pure water
2). Food and beverage industry: Filter for mineral water, wines and fruit juice
3). Medicine industry: Filter for drug liquid, gases
4). Chemical industry: Filter for organic solvent
5). Petroleum industry: Filter for oil-field flooding
After -sale service instructions
1)Warrantee: 1 year, all the components have problem within this year, will
Resend quickly for free.
2)User Manual: Provide the specific entire system"User Manual"
3)Spare parts: After 1year guarantee, offer spare parts with preferential
Price.
4)Technical guideline: Provide life long" Net Technical Support "freely.
5)Transportation: Offer professional shipping service/air service if necessary.
6)Documentary: Collecting cargo and handle paper work for exporting.
7)Order supervisor: Manage your order very well after planning stable orders to keep your stable market running.
Guangzhou Kaiyuan Water Treatment Equipment Co., Ltd, are specialized in manufacturing reverse osmosis(RO) water treatment equipments. The RO system can purify tap water, underground water, river water and seawater to drinking pure water. Welcome your visiting to our factory warmly!
250L/H Replacement consumption list
Description
change time
Quantity
Total
Quartz sand
should be replaced every
about 15 month
50kg/bag
2 BAGS
Activated carbon
should be replaced every
about 15 month
25kg/bag
2 BAGS
PP Filter cartridge
(5 micron)
should be replaced every
about 1 month
3 pcs
36PCS
RO membrane
(USA DOW )
should be replaced every
about 1-2 years
1 pcs
1PCS
Resin filter
should be replaced every
about 15 month
25L/bag
2Bags
These consumables accessories are for 1-2 years more !
Application fields:
1
)
Electronic industry, semiconductor industry ultrapure water treatment
2
)
Chemical industry, pharmaceutical industry pure water treatment
3
)
Food, beverage, drinking water, bottled drinking water, sachet/pouch packing pure drinking water treatment
4
)
Electroplating and leather industry waste water treatment
5
)
Brackish water desalination, sea water desalination, metallurgy and light industry pure water treatment
6
)
Cosmetic products, car battery, liquid fertilizer production pure water treatment
7
)
Edible cube ice, tube ice etc.
8
)
School, hotel, hospital, laboratory, surface treatment,
hydraulic test
, industrial boiler, power station boiler, high pressure boiler water treatment
UV sterilize
It uses the UV to kill some bacteria that may also pass through the reverse osmosis system.
Disinfect tube adopt high -quality stainless steel , the material with high efficiency which can get rusty reflection have to ultraviolet ray, will not produce pollution while using , accord with the hygienic requirements of food industry. Tube built-in ultraviolet lamp and quartz glass tube, disinfect tube for airtight container
Ozone sterilizer
Some bacteria may not be killed by UV, the sterilizer uses ozone to kill those bacteria. We use stainless steel 316 for ozone tower, as it can resist Ozone very well than SS304,the working life will be much longer.
Our business scope
Our company is professionally producing reverse osmosis (RO) water equipments, pure water machine, purified water equipments, industrial water plant, well water(bore hole brackish water, salty water) treatment system, rain water filtration system, domestic water purifier, irrigating water treatment equipments, swimming pool water treatment plants, cosmetic products water treatment system, pharmaceutical water treatment, water treatment in chemical production area, softened water equipments, underground water treatment equipments, iron manganese removal equipments, laboratory deionized water equipments, deionized water equipments, direct drinking water equipments, domestic drinking water equipments, EDI high purity water, swimming pool water purifying equipments, river, seawater desalination equipments, ultrafiltration(UF) equipments, electroplate water treatment equipments, ion exchange equipments-mixed bed, water softener, all kinds of water treatment consumable(need replaced parts) materials(PP sediment cartridge, RO membranes), accessories, can be customized various kinds of model as your requirements.