Eter Hospital Nurse Call Bell System Used In Ward With CE/ISO13485
Eter Hospital Nurse Call Bell System Used In Ward With CE/ISO13485
PRODUCT OVERVIEW
Hospital Nurse Call Bell System Description
ETR Nurse Call Bell System is designed for providing the communication between patients in wards and medical personnel in nurses offices in case of any peculiar conditions in hospitals. With cast-into-once deluxe plastic master telephone hosing, innovative summary fixed mode, complete information electronic summary and audio number reporting system, it has higher performance-cost ration than those products of the same variety.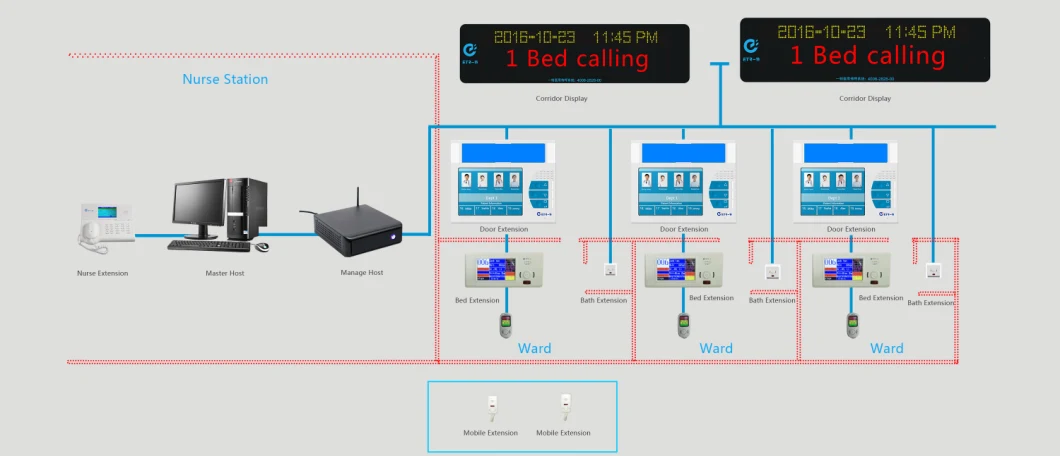 Hospital Nurse Call Bell System Composition Parts:
So far, two -wire and four-wire systems are available. It consists of host, bed extension, corridor display, door lamp, secondary host as well as optional modules(including music, bathroom extension) for realizing some peculiar functions.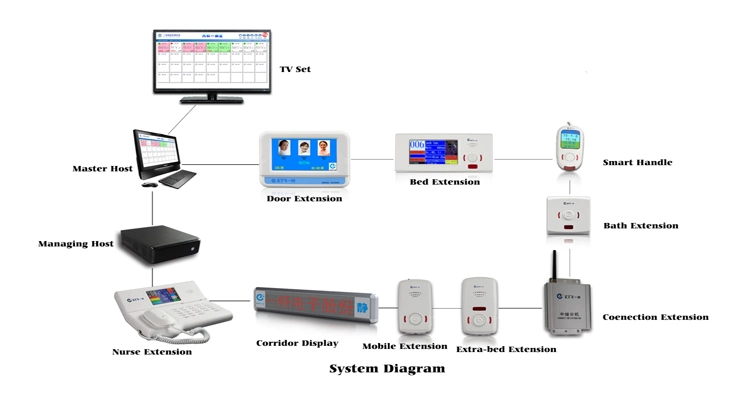 Hospital Nurse Call Bell System Features
* Act as management center that can be linked to PC with Windows software suitable for hospital, where internal communication is needed and is easy to be operated.
* The Master Host can support 200 extensions (Included bed extension, door extension, bathroom extension); Windows software will record and check patient's information.
* Nurse extension can broadcast for ward area.
* Smart Handle has LED night light.
* Bath Extension can receive the signals of nurse arriving and ward inspection.
* Door Extension equipped with multicolour door lamp, can indicate different situation with different colour.

Hospital Nurse Call Bell System Functions
Functions:

1. Wired call, Voice number telling.

8.Volume period set of voice telling.

2.Two way talk.

9. Intelligent control.

3.Broadcast.

10.Record check.

4.Point to point talk.

11. Multicolor door lamp

5.LCD Graphic display.

12.Patient List

6.Information Issuing.

13.Permanent calendar

7.Touch Screen Function.

14.Bedside Music
Warranty
(A) ETR guarantees the proper functioning and operating of the equipment for a period of twelve months from the date of testing and commissioning at the end user's site, or eighteen months from delivery date, whichever occurs first.

(B) If there is any defects and malfunction under warranty period, ETR will provide maintenance for free totally until the equipment operates properly.
Our Services
1. Setting trace file for every sold product and survey it quarterly.
2. Providing remote instruction and training for free.
3. Providing on-site services and repairs for free under warranty if problems caused by Eter.
4. Spare parts and on-site services would be provided with best price out of warranty.
5. 7*24 hours online services for free, solution for any problems will be provided within 48 hours.
6. Professional engineer for on-site services will reach within 7 days when needed. (Visa apply should be considered.)
FAQ
Q1. Are you manufacturer or trading company?
A:We are professional manufacturer to produce medical equipment, including medical PSA medical oxygen plant/generator, medical central suction system, medical compressed air system, medical central gas supply system, hospital head unit system, medical gas monitoring and alarm system, medical nursing system, ward nursing information system, etc, founded in 2003.

Q2. What are the components of the Hospital Nurse Call Bell System?
1. Host usually install in the nurse working place.
2. Secondary host install in the doctor office or duty room.
3. Corridor display install in the corridor.
4. Bed extension, bathroom extension & door lamp install in the ward.

Q3. How does the system works?
1. After patient have any requirements, patient can call nurse by bed extension, all the need to do is press the button sitting on their head of bed.
2. When the patient presses the call button, the nurse will receive the call from nurse station by host, and make two-way call and talkback with patient. when patient presses the call ,the corridor display also will show calling information on the display, so that it can ensure the nurse can reply the calling information as soon as possible.